Updated date:2016/6/4 上午 11:46:06
HL CORP(SHENZHEN), Ltd.24ThFire Drill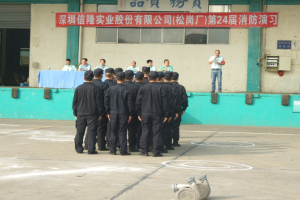 Editorial department
In order to do a good job of fire safety work, strengthen the staff's awareness of fire safety,HL CORP(SHENZHEN), Ltd.24thfire drill in October 30th afternoon officially kicked off.
afternoon15:30,The fire drill kicked off, first by the management department manager Xie Hongliang made a mobilization speech, then tells the director Liu products and the use of a series of fire extinguishers to you. Let the employees involved in the training to learn and understand how to use fire extinguishers to fire. Then let us plant firefighters and demonstration operation of the fire hose, fire hydrant extinguishing method. The members of the requirements of each group have clear division of labor and cooperation, go, let all the firemen have to fully experience the importance of fire drill. The whole process of the fire drill is carried out in an orderly manner, the results of the exercise to achieve the desired results, and finally to a successful conclusion.
After the end of the exercise, director Liu products conducted a fire safety emergency and fire escape skills about participating in the exercise for all employees. Teach everyone in the event of a fire, what should we do, how to correctly alarm, fire, evacuation, how to save themselves and escape. Finally, thanks to the deputy fire drills made general comments: for exercise results gave full affirmation, praised the participating in the exercise of the employees had to obey the command, quick action, and asked us positive, to further improve the safety awareness, improve our employees' capability of emergency rescue and response ability to reduce the losses caused by accidents, ensure the development of safe, healthy and orderly operation of the company in the future.