Updated date:2014/11/30 上午 11:27:54
Vigorously develop interesting sports, the implementation of sunshine sports activities to enhance the physical and mental quality of primary and secondary school students!
------ Shenzhen municipal government issued the "guidance" on strengthening the comprehensive quality of students training for industrial Nobutaka "Ruimu paradise" and Ruimu leisure car provides a strong support to further expand development。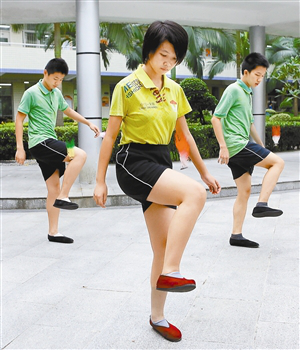 According to the January 17, 2014 "Shenzhen daily" an article titled "art curriculum of compulsory education schools accounted for 11% of the report, Shenzhen city will introduce the" guidance "on strengthening the comprehensive quality of students training, the construction of new curriculum system.
The day before, Shenzhen City Bureau of education revealed that in the third Plenary Session of the 18th CPC Central Committee to implement the party spirit, deepen the comprehensive reform of education, Shenzhen city will introduce the "guiding opinions on strengthening the comprehensive quality of students training" (hereinafter referred to as the "opinions"), guiding the school training of eight character, body and mind, learning, innovation, international, aesthetic, the information literacy of students, life etc.. For matching with this, will build a new curriculum system to cultivate students' comprehensive qualities, education and students will focus on training students is not only excellent performance, but also to cultivate students' love of learning and work, love the motherland, enhance their sense of social responsibility, innovation spirit and practice ability, on the basis of moral development, mental health and academic quality of basic literacy, innovation of students in Shenzhen, international understanding and communication ability and independent life safety requirements, not only take care of students' individual character development, and the positioning of Shenzhen City Creative City, the internationalization of the city which is connected.
In the "opinions" under the guidance of, especially the promotion of literacy in primary and middle school students in physical and mental, to the school sports curriculum and students' physical exercise will have a big change, the vigorous development of sports, the implementation of the sunshine sports activities, to ensure 1 hours every day at the school sports students, master at least 1 pupils and middle school students to master at least 2 a lifetime of physical exercise.
Provides strong support for the further development of the education and guidance of the Shenzhen municipal government issued "Ruimu paradise" and Ruimu recreational vehicles. The company will respond to the government's new policy of education, the momentum is, in addition to continue to develop more sports game products, and strengthen the mechanism of leisure sports contact with the parties, to find various possible ways of cooperation, on the one hand to assist the government to implement the new educational policy, but also for the further development of open innovation Ruimu paradise "situation.
Chairman Mr. Liao Xuejin feeds